Every weekday in the Connected Hum Tum TV Blog we'll be posting and talking about the latest goings-on of the six women cantering around Mumbai recording their lives with video cameras. (Read The Curtain-Raiser post for a quick intro to the show.)
The fifteenth episode started at 6:30am in the Kochar house where Preeti was excited about Zohan's first race. She brought up an apt marker of Zohan growing up (apart from the other clichéd ones) by pointing out that the kid who was used to waking up at 8:30-9 would be waking up at 6:30 on the day of the race. The most awesome thing about Preeti's segment is how she could care a damn about Zohan winning the race as long as he at least runs on the defined track. (Spoiler: The kid spends most of the race looking for his mum.)
The race brought out the overall theme of this episode, which was competition and rewards. What role does competition play in our day to day life and how does being rewarded affect us and others around us?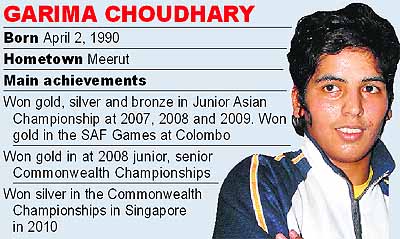 Mahima was back home with her parents and relatives, waiting to hear about the results of her sister Garima's Olympic participation. There were conversations about the importance of Garima winning a medal versus just the fact that she made it to the international level. Their mother wished that the government provided more support to the athletes as a form of encouragement. Mahima prayed for her vegetarian sister to be able to fend off the Japanese and the Koreans from her medal. For Mahima, her sister is her yardstick for freedom and winning. Hearing about the sister's loss, she started wondering if her parents would ever accept her love story. A brilliant new word is coined in this soliloquy — boundation. A boundary, a perceived limit that is so strong that it has its own foundation?
Abhay Deol, I feel, delivered his money's worth in this episode when in his soft and sardonic voice he said, "Aetthe bhi gold medal, otthe bhi gold medal but why jee, bataao? Because jo jeet-ta hai, wohi taaqatwar hota hai aur jo taaqatwar hota hai uska koi boundation nahin hota."
Pallavi, on the other hand, sounded excited yet nervous about her impending appraisal. There was no sign of worry or concern though. She knew she loved her job despite not being given an appraisal for almost two years. But she wanted to do well in the appraisal. Post-wedding Pallavi has been far more spunkier than the pensive pre-wedding Pallavi. But she is a woman who is acutely aware of her obscure sorrows — in this episode, the fact that she couldn't share a moment with her husband when it came to her happiness. She did not expect a celebration but just for him to feel her happiness with her. She wanted him to care for her victory, something she had worked almost two years to get.