By Chandeep
As I adjusted my silky slippery dupatta for the millionth time, my mother suggested that maybe we should get some food. I swiftly stood up to show my eagerness and started to move, dodging all the guests around me. But just before we could reach the stalls from which delicious aromas were wafting up, I heard my mother call me back. I turned around to see her touching the feet of a shrewd-looking elderly lady. Reluctantly stepping away from the dahi paapdi stall, I went forward to greet her with the customary sat-sri-akaal, thinking it was just an old forgotten relative that I was supposed to pretend to recognize. But then I saw my mother's breathlessly ingratiating expression, her eyes fixed on the lady and face secured in that sycophantic smile that I hated. Later, in the hotel room, as I pretended to sleep, I would hear her telling my father "O dekhdi pai si" (She was looking).
My mother's ecstasy at a wrinkled old woman having glanced appreciatively in the direction of her 24-year-old daughter was probably more than the happiness I felt in high school when my crush asked me for a pen.
Before anyone can question the weirdness of the situation, let me clear this up. The lady belonged to a potential (read: rich) family that my mother thought I could marry into. My parents had dragged me to a wedding so ostentatiously glittery that I was surprised to learn that it wasn't Karan Johar himself who organized it. There, my walk had inevitably tuned into a parade with my mother making sure I come in the 'nazar' of as many such ladies (and gents) as possible.
In one of YouTube star Jus Reign's videos, the character of the mother says "22? That is too much'", her shock at her son roaming around a bachelor at the age of 22 with no intentions to settle down reverberating in her voice. The whole scene in the video is downright hilarious and very relatable.
A similar scene has become common in my house. The increasing frequency of please-get-married advances by my family is now a recurring part of my routine. And the mind-games and tactics that are used to set me up are mind-boggling; enough to put Tyrion Lannister to shame. From ramp walks in front of scrutinizing (and gossiping) ladies to subtle but definite rebukes about not possessing enough culinary skills, I expect these kinds of conversations, if not every day, then every fortnight.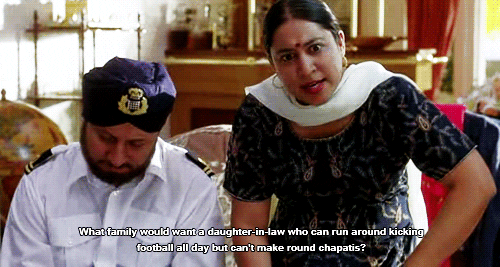 But expecting it has still not made me accustomed to all this. You see, after years of hearing about my marriage from my family, I can always sense when they are about to bring up the topic. There is a general shift in the mood of my big, fat Punjabi family. My father and chacha (his younger brother) become extra jovial with me. My mother keeps on stage-whispering to my father, in an effort to get him to come straight to the main topic. The rest of the family looks at me with an anticipatory gaze, their masala chicken stuffed mouths curled up in beatific smiles. This smile always means one thing: They've caught a big fish. Rishta bahut accha hai shayad. (To my Punjabi girls out there, a tip: The wider the grin, the more Pajeros the party owns)
I still tend to experience bad anxiety every time such a conversation happens. More than my family, I despise myself for being weak. My hands become clammy, my voice starts to shake, and of course, there are tears. Oh, how the tears come. I hate myself for quivering when I hear my father's now-angry voice. And unlike Jus Reign, I can never just shrug it off casually and storm out of the house.
The first time it happened, my anxiety was two-fold though. Why? Well, apart from the obvious reason of it being my first confrontation with the marriage issue, there also was the fact that I was just twenty. It was my third year of college and a nice Sikh family from Patiala was looking for a 'good' girl for their son in the fruit business.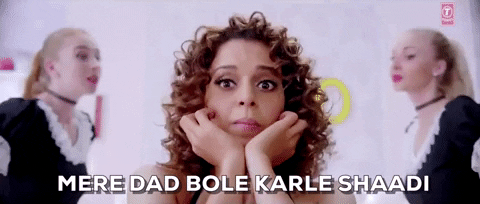 I declined, obviously. But I remember being surrounded by eleven members of my family all trying to persuade me into doing something that I didn't want to. And at one particularly weak moment, I almost gave in to their expectations (read: emotional blackmail). But a voice in my head sprang up to tell me that I couldn't marry and live the rest of my life surrounded by high-quality fruits.
I sometimes wonder if this 'start early' strategy is actually a clever subterfuge by my family. Start at an inappropriate baali umar so that when the slightly more apt age arrives, the children are so exhausted that they themselves start thinking that it is too late, or 'high time' as my mother says.
The other reason for my shock was because of the way I was raised.
My father absolutely discouraged us to fall into the trap of materialism with my disgruntled shopaholic mother sometimes failing to comply. I was not allowed to own a mobile phone throughout my school life. Instead, my father showed us the wonderful world of books, music and movies. I inherited the habit of reading from him and since then I have been unable to fall asleep without having read at least a little bit of a book. He introduced me to the mesmerising Coke Studio Pakistan and to this day, I don't know of any better place to fulfil all of my musical desires. And most of all, my father was my gateway to Hollywood movies. When all my friends were discussing the latest Salman hit, I would be feigning interest while reimagining the scene where Roberto Benigni pretends to be happy in front of his child, while being taken away to be shot to death, in Life is Beautiful, the DVD of which, courtesy of my old man, was sitting proudly in our living room.
So, when this same knowledgeable and open-minded man said things like, "Job karne walo ko ladke nai milte", I was left speechless. The same man, who for years had waxed poetic about how much he wants me to join his business, had just declared that, "Shaadi ke baad bhi padhai ho sakti hai."
A cousin of mine, who was in a secure position at a top accounting firm, couldn't find a good match for herself. The family was becoming anxious to get her settled. Seeing this, my own family went ahead and made their own deduction: Girls who have jobs don't find a 'rishta'. That was when I also discovered that my mother had been hungrily scouting for suitable men for me since the day I'd turned eighteen!
Upper-class and upper-middle class kids in Punjabi families are raised to follow a clichéd pattern. For the girls especially, the requirements are clear. They have to be attractive, fair, passably educated but not outspoken, can drink but not in front of relatives and should have an inherent preference for expensive things. And when the decided time arrives, they should be ready to glide into another affluent family chosen by their parents. Bonus points if they learn how to give a Filmfare-type dance performance at their starry wedding ceremony.
For some, it is their choice. They accept the stigma that this 'get-married' thinking chains to other absolutely unrelated things like hanging out with boys, getting a job or living alone. They even welcome the fact that they mustn't cross the boundary to become 'too educated'. Because, as one of my older relatives was heard exclaiming, "Tussi kudi nu ena padha dita e ki hun rishta hi nai labda peya" (You've gotten the girl so educated that there are no rishtas for her now).
But for those who choose a different kind of lifestyle, the pressure to follow this path is stressful. Add to that, the severe inferiority complex of parents when they witness their friends' children getting married, and the burden becomes acutely unimaginable.
I have been resisting my family for over four years about marriage. And after all this time, I have come to a realization. Parents just look out for us. They follow the traditions they know, the paths that they themselves were made to traverse. That, instead of hating them, it is our responsibility to change an outlook which we think is wrong or which is against our ambitions. After all, as I realized, I also smile the same sycophantic smile as my mother when I am seeking the approval of other writers.
While I did manage to push through tiny changes – persuading my family to 'allow' me to work or dispelling the thought from my mother's mind that having guy friends is bad – I am nowhere near a revolution that will change things significantly.
But abhi ke liye bas. I see that my father has just WhatsApp-ed me the bio of some wealthy guy from Delhi. I gotta go deal with this.