By Gaurav Jain
On the verge of bankruptcy, first-gen Delhi industrialists, Kamal and Neelam Mehra (Anil Kapoor and Shefali Shah), invite their friends to celebrate their 30th wedding anniversary on a Mediterranean cruise. There were probably large foreign production subsidies, and we can expect no end to the film's tourism marketing. No matter.
The Mehra bachelor heir Kabir (Ranveer Singh) is trying but flailing at the senior end of the family business. His dad wants to sell his airplane, which is preoccupying him these days. Meanwhile, Kabir's sister, Ayesha (Priyanka Chopra), has built her own business of the second biggest travel website in India, all the while married to a mysteriously rich liberal-and-sexist Bombay bruiser called Manav (Rahul Bose). We don't know which of the Mehra siblings is older, since Ayesha could well have been married before her brother either way. We don't know if Manav and his scorpion mother are Punjabis like their in-laws. We don't know if they're new money as well, or whether Manav's contempt for his in-laws comes from his older money. We don't know where the Mehras live in Delhi or where they came from (Nirula's? Poor Bombay scriptwriter!). We don't know why they're insolvent. Hell, we don't even know what their company does. No matter.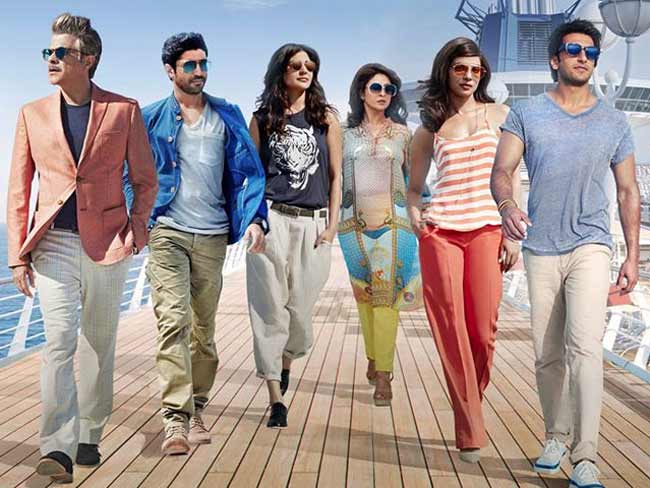 The locations and the ship are cursorily shot inside and out, with many aerial pans. This destination movie evokes no lust for travel. Strangely, there is barely any Mehra family on the cruise beyond the nuclear for this momentous event. No family dynamic except of the nuclear, despite the badly treated chacha. There are only some old friends present, none of whom Kamal or Neelam ever confide in. There is no evidence of the minute planning we're repeatedly told Ayesha has long done, since there is never any actual celebratory event for their reluctant parents. There isn't a single memorable song in this pretty film. No matter.
Some of these are deliberate omissions, no doubt. Zoya Akhtar, the film's director, now makes the kind of movies some Indian novelists dream of writing – a dream of the globalized Indian elite. Hers happen to travel from India to Europe, since already living there would involve actual cultural negotiation. These people want to feel, on top of their other distinctions, that they're also egalitarian; Akhtar's central love story agrees with this American imperative, though she never puts it to the test – the one middle class character in the film, the dancer Farah Ali (Anushka Sharma) loses her job and has to hob it to the nearest coast, but we never find out what she makes of the bounders she's left behind.
There are many turns but no twists in this family and romantic melodrama. You don't feel anything for these people but you can easily enjoy the film for its handsomely derivative aesthetic, sometimes charming (Anil Kapoor's suits) and sometimes grating (1920s flapper dancing).
Akhtar refuses to raise the stakes in any way. She's more interested in her people's family lives and marriages than their class. This wouldn't be worth mentioning except that it hurts the comedy – forget nastiness, none of the people in the film even exhibit any bad manners. Not even the gossipy aunties. Everyone is signposted as rich and haughty but we get no evidence of it.
They might be globalized but these are no rootless cosmopolitans. Akhtar establishes their authenticity by emphasizing their Punjabi backslaps and global south thumkas and comic English mispronunciations. These are Indians exploding with native family issues, even if they're always wearing Western clothes and language. The film wants it both ways – rich people without any sense of entitlement, romantic crises without any need for sacrifices, generational crises without any children misbehaving.
There is some good comedy here, but it's mostly restricted to the men. Kapoor, Singh and Bose turn in excellent performances of physical timing (Farhan Akhtar is relegated to his usual stiff-smiles-and-finger-wagging self). There is some nice repartee for the side female characters, which is just as well since the main female characters are only allowed to be soppy-stern.
For all its softly lit gags, Dil Dhadakne Do seems to have contempt for all non-professional women. A histrionic Ayesha scolds all her aunties about indulging in matchmaking instead of "getting a job". She is allowed redemption by things like being featured inForbes magazine even if she's still the third wheel to her husband and distinctly less talented brother. Farah and she have a working future to look forward to, while the older women, including mama Neelam, are given no agency or wit – they have nowhere to go except suffer their husbands and marital indignities.
Farah remains a cipher, the hippie-who-wasn't who enjoys her work and who is there only to be quickly romanced and twirled. Neelam is a warning, an example of the previous generation's wrong choices. We commiserate with Neelam and Ayesha's marriages, perhaps, but they'd have a better chance if they'd made us laugh instead.
Not only do the men get the laughs, they also get the sex. The women look fine, but none are allowed any physical signature or flair. The men's bodies are shot much more lovingly. Anil Kapoor's hair constantly looks like it's been brushed and salted by the waves, Rahul Bose's arms look like they could lift the ship, while Ranveer Singh's collarbone is just this side of obscene.
In this film where everyone eagerly plays to type – the father always exerts power by shouting, the clever tycoon daughter always whimpers in front of her parents – the most satisfying relationship is a bromance. Kabir and Sunny (Farhan Akhtar) grin, bro-shake, hug and get teary all the way into our hearts. This film is a comedy about rich, self-satisfied men and their lives, and so what if it just scrapes past the Bechdel test (when Ayesha has a conversation with her cousin Divya about her future).
There is no real emotion in Dil Dhadakne Do because there are no real stakes for anyone. The story proceeds as smoothly as the Pullmantur's stern, with such an even keel that it refuses to pitch up anything. The love stories happen swiftly or in backstory without any evidence of a connection made, and we're just asked to believe they're happening. Even the business crisis remains abstract. Crises are set up – such as Kabir dramatically announcing he's in love with a girl who is a dancer and Muslim – and then? Then nothing. Apparently, Indians can resolve everything with hugs. Before you know it, we're in a family-sized life (of Pi) boat heading for land. And that cutely inconsequential dog too. That beautiful last shot resolves nothing, which is curious. In the sequel, I hope these people stay in Delhi and maybe even act like Delhiites. In any case, expect a sequel. No matter.