"You want my introduction?"
She flashes her dimple, for the first and last time. Then, she looks straight into the camera.
"My name is Sheelu Nishad. I'm contesting from Gram Sabha Barkola. I'm from Shahbajpur. Police post Naraini. District Banda."
She walks like a man, dresses like one too – black pants, khadi shirt, white sneakers and agamcha draped around her neck. She laughs [like a man] with an all-knowing chuckle. This is Bundelkhand's Sheelu, leading a caravan of men twice her age through narrow village roads.
In 2011, Sheelu was raped by ex-MLA Puroshottamnath Dwivedi of Bahujan Samaj Party (BSP). Dwivedi is in jail now. The case catapulted her to national and international fame. This year, on December 5, Sheelu filed her nomination in the pradhan elections, from her village Shahbajpur.
Sheelu is not her father, brother or husband's puppet; she is a candidate in her own right. There's work to be done and she wants the power to get it done. As part of our ongoing series on women panchayat candidates who defy stereotypes, Khabar Lahariya spends a day on campaign trail with Bundelkhand's Sheelu.
"The wind is blowing didi's way," say a few men, standing on their thresholds, casting a wary eye on the all-male caravan. Sheelu is holding court at the nearby chabutara. Who will you elect? "Sheelu didi."
As we go deeper into the village, the overwhelming support for Sheelu begins to unravel. Some are voting for the Sheelu wave that has invaded their village, others are voting out of fear or favour. Only a few appear to be voting for Sheelu the candidate.
"I don't want to say anything. You think she won't find out what I've told you," says a villager who doesn't want to be named. "Every little bit of news reaches her. I'll just say this – if everyone votes for her, I will too. Lamba power hai uska."
"I've never seen her before, never heard her speak. But I've heard her name," says Khalbuddin. "She says the same things the other candidates do, and everyone listens. You don't really know  what people are thinking in their hearts. But it seems like she will get things done." There are 250 Muslim votes in Shahbajpur. Almost half of them have migrated to Gujarat for work. So we should vote for a new candidate, says Khalbuddin. Sheelu seems like the best bet.
Lalita Kushwaha, who is a midday meal cook, says, "We want a pradhan from our own village – Ramdevi. Par haan Sheelu ki hawa chal rahi hai."
Sheelu is a complicated figure. She is a vigilante and an agent provocateur. She is a hero and wily politician. On one hand, we are tempted to imagine her as a revolver-wielding, cape-wearing, vengeful Snake Gang Commando. It wasn't long ago that the Hindi media was in thrall for a few days by her 'Nagin Gang', which apparently mobilised 20,000 angry women across Bundelkhand, as a parallel outfit to Sampath Pal's Gulabi Gang.
Yet, in this gritty version of Sheelu the candidate, the truth of a young and vulnerable woman, who has tools and costumes to challenge patriarchy and demand justice in the way she does, risks being unexplored. She talks of the difficulty in getting out to campaign sometimes – "you understand what I mean, right? Sometimes you just don't feel well."
But Sheelu also wields power and influence just like the most notorious of Bundelkhand's politicians. She takes a swipe at Khabar Lahariya's infrequent periodicity; she stops to resolve the small problem of a friend's motorcycle being intercepted by the police. She does it because which self-respecting politician doesn't have the pull?
So much to say that Sheelu is deserving of many portrayals, and it is still tough to pin her down, whether it is just a political act, or ruthless ambition, or if there's such a thing. Her multiple personas inhabit the atmosphere, the fringes of the campaign caravan, in homes, and on the road. She is a woman with a past, with a history of standing up to sexual violence and subversion – a politics she isn't afraid to embrace or invoke. Perhaps that explains the reluctance, discomfort, even inhibition of residents in accepting her leadership.

Excerpts from our video interview:
Why did you think of contesting the panchayat elections?
I'm in politics because the people have brought me forward. It wasn't the age to do it, but what can you do? I'm still studying, doing my Intermediate now.
I thought of contesting this election because my panchayat is very underdeveloped… and people are harassed here, and their troubles go unheard. No one listens to the problems of the poor. It is amongst these injustices that I'm standing for election.
Are you talking about injustices on women?
Yes, I'm talking especially about women… There are many cases in this area – cases of sisters of mine, which are just filed away, and neither the officials nor the public pay heed to them. Now you tell me why they don't pay any heed.
I think that if we fight, then there is a possibility that these cases get heard. I've fought many such cases. In Tendura village, there was a rape case; the girl – a poor girl from the Kori caste (Dalit) – was raped, and left all night under a bridge. The perpetrator was the son of the village pradhan. Sampath Pal, the commando of the Gulabi Gang, was roaming the streets of Banda with this case for 8 days. No case was filed. I went to the village, and spoke to people. They said, there's nothing you can do – he is the pradhan's son. I said, whether he's the son of a pradhan or an MLA, the law is the law. Even the son of a pradhan comes under the purview of the law. So after everyone else had tired of the case, I took the girl and protested outside the SP's office, until the case was filed. It is still in court, and the perpetrator is in jail. And this isn't the only one – there are others like this.
How are people responding to you? To the fact that you speak and act in this war about cases of violence, around which there is a lot of silence?
I don't know how people look at me, when I talk like this, and take up these cases. Kuch log accha dekhte hain, kuch log bura. So I'm good for those who see me like that, and bad for the others. The bottom line is, I'm not going to let those who have done wrong go unpunished. These issues need to be taken to the level at which they will be heard/resolved.
If I find out about a case concerning a woman, then I go myself. What I've seen, and you can say if it's true of your experience – people think that women are weak. Many people think women are weak. True? But I say women are not weak.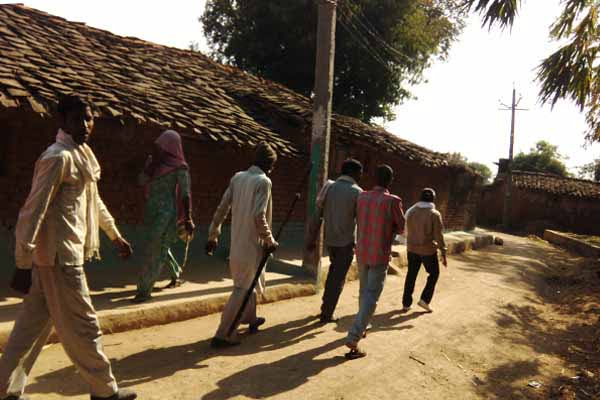 Who are your opponents in the election?
Don't ask me about my competitors. I'm not in this election for them. I'm in this election for vikas.
What does vikas mean to you?
What do I mean by development? I mean that when the government says that it provides for its people – toilets, pensions – they should get it. Tell me if you've seen a single toilet in this village. I've been campaigning for the past 15 days and I squat in the bushes when I need to go. There isn't a single toilet, in anyone's house. See what kind of development has happened? You don't hear all these speeches (about toilets) on TV? Where does all that money for toilets go? This is my big issue in this village.
There are few water connections and tubewells. So we'll make a demand for these things. But once I'm elected.
Crops have failed this year; the lord above has graced us with no rain. So people are sitting with their arms folded, and no salt or oil to run their kitchens or feed their children. I've said that those who haven't got their compensation cheques, last year or this year, we'll make a group of 10 or so farmers and go to the Tehsil, to the CDO. We'll get the cheques made. We're at it, slowly and steadily.
Is any political party supporting you? Are you supporting you any party?
I'm not supporting any party right now, but all the parties are supporting me – BSP, Samajwadi Party, and Congress. We'll see in 2017 which party to go with. I can't say anything about the present (state) government. I can't talk about this now, not during the elections. There's a code of conduct and I won't violate it.
Update:
Khabar Lahariya asks Sheelu, defeated by 527 votes in the gram pradhan elections in Barkola panchayat, Banda district, about her first-time experience of contesting. Was loss going to beat her down? No, she doesn't think. There are Vidhan Sabha elections to prepare for. But KL thinks about strong, subversive and fearless women candidates and their chances of changing the game of politics – it's not easy.
 First published
here
 on Khabar Lahariya, India's only rural media network.